For the SS20 Bedeck of Belfast photography we embarked on a four-day shoot at Ormiston House, Belfast. A period property built in 1867, in a Scottish-Baronial style with crow-stepped gables, a bartizan turret and gargoyles.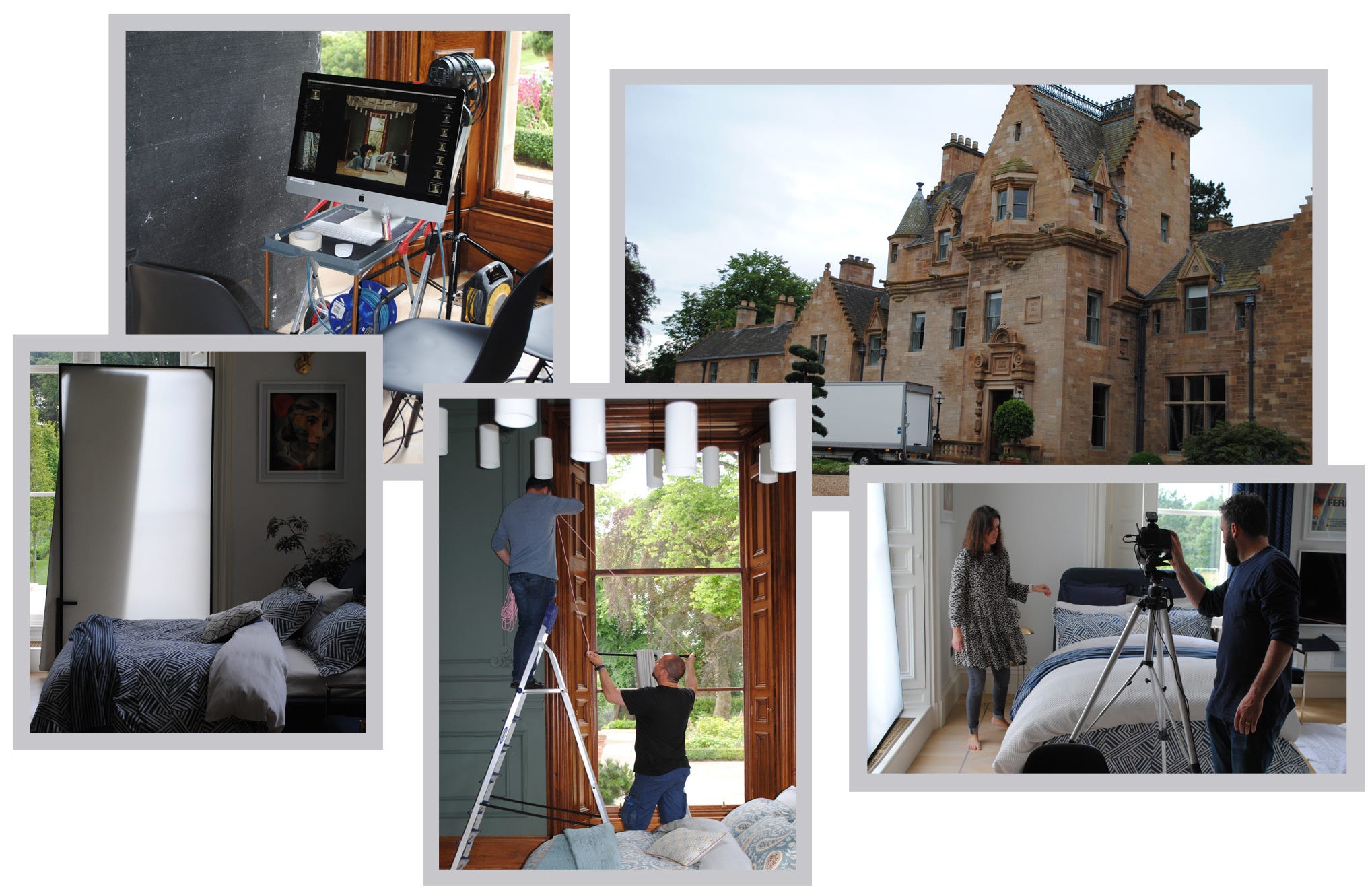 Full of charm and history, Ormiston was built for James Combe (a Scots born iron founder and linen manufacturer of Combe Barbour) with the property later bought by shipbuilder Sir Edward Harland (Harland & Wolfe) and soon after acquired by his business partner William Pirrie the chairman and architect at Harland & Wolfe, who oversaw the build of the Titanic. He also served as Lord Mayor of Belfast between 1896 and 1898. Harland & Wolff later came into sole ownership of the property, selling it in 1928 to Campbell College, who maintained ownership of it until the mid-1970s.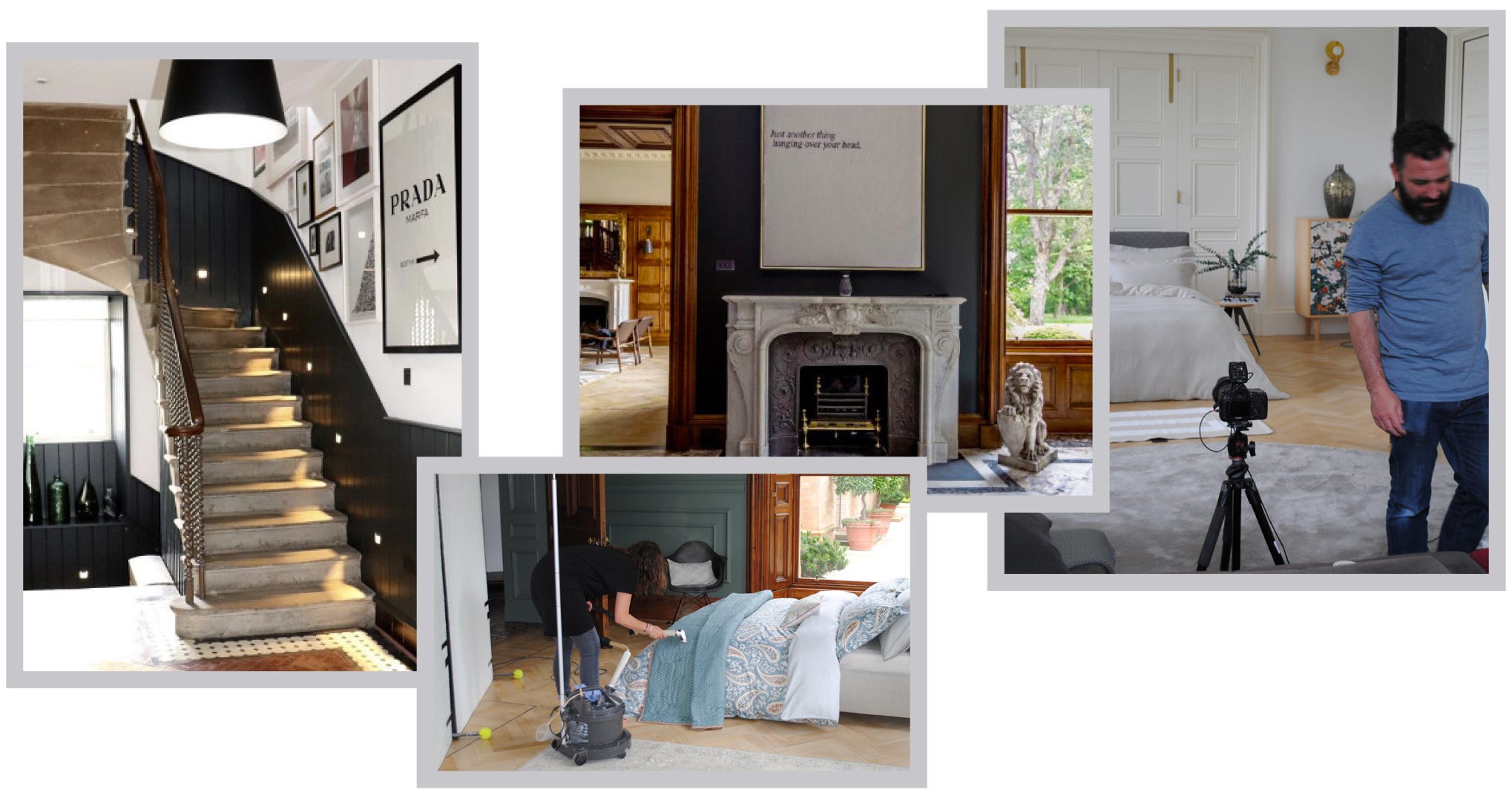 A turret feature looking outward to the shipyard on Belfast's lough, was originally used by Harland & Pirrie to keep watch on incoming ships. The feature is still in use, giving panoramic views over Belfast.

Today, following a four-year renovation project by its new owners, Ormiston has been restored to its former glory. A characterful property, brimming with historical detail, yet brought up to date with a modern aesthetic. Ormiston provided the perfect backdrop and historical touches for shooting our new Bedeck of Belfast SS20 collection.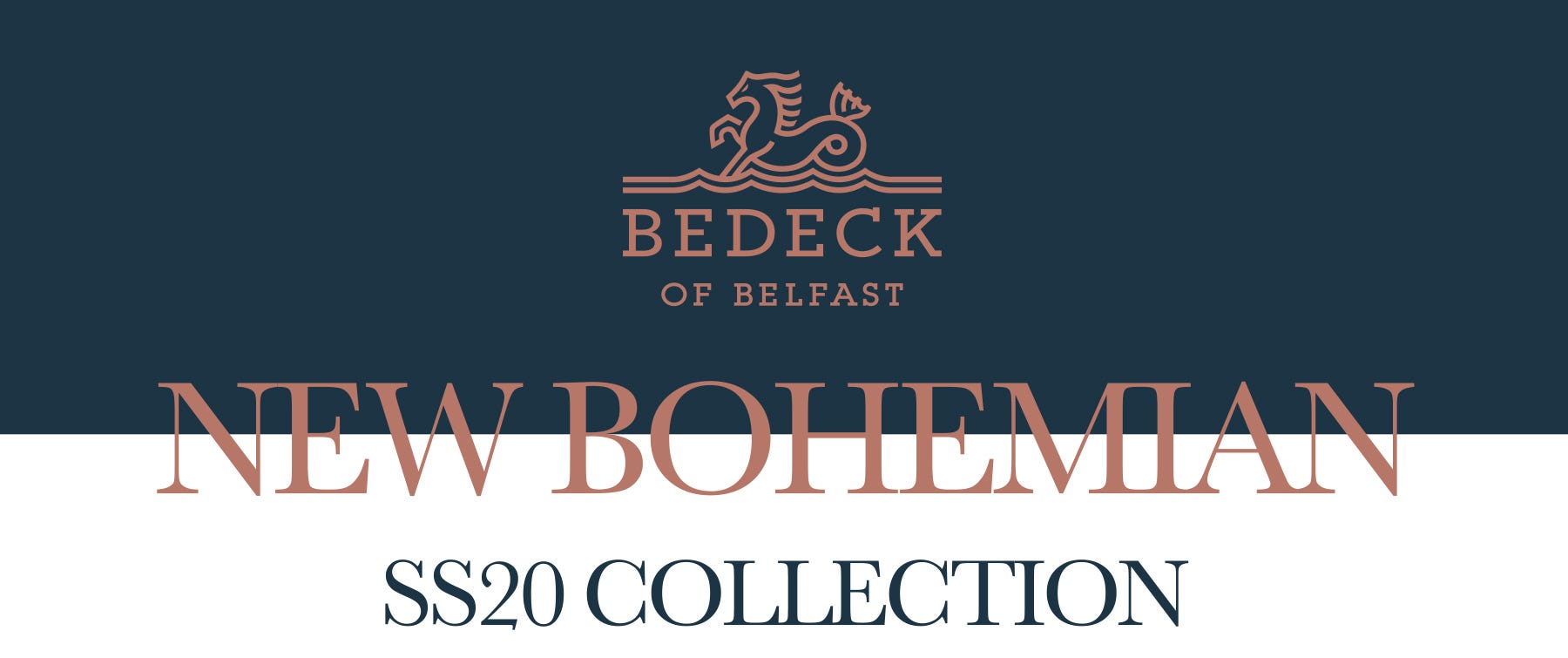 The new SS20 collection sees us embark on a journey of exploration. A 'New Bohemian' concept embodying the new Bedeck of Belfast collection bringing pattern and design together in a multi-cultural fusion. A considered mix of scale and pattern, with unique finishes and detailing present a collection rich in cultural references and textile traditions from around the globe. Layering, integral to the brief, relaxed semi plains add tactility and softness, and help elaborate the new bohemian ambiance mixed in with the main design prints.

This natural coming together of textures, patterns and accessories creates a relaxing, versatile atmosphere perfect for self-expression. The intricate design process rooted in Belfast, with knowledge and skills garnered from our rich linen heritage to represent inspired collections, crafted for modern day living.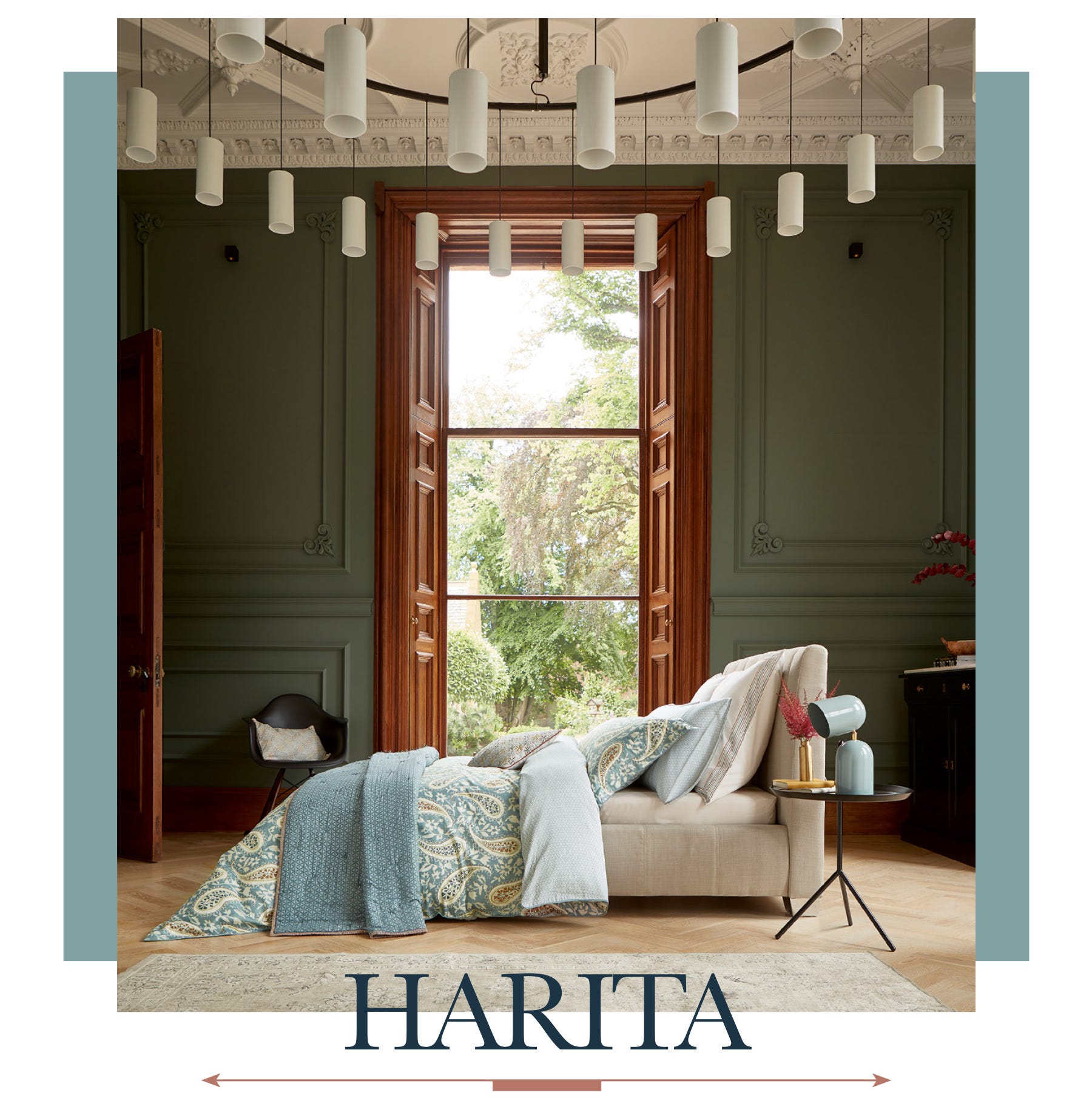 A sophisticated Indienne inspired paisley design, guided by the rich heritage of East Indian hand-painted textiles. Staying true to traditional Indienne colourways the soft teal and putty colouration is modernised with accents of paprika and chartreuse. Added ikat details and harmonious layers develop the story further with an embroidered square pillowcase in soft teal, paprika and chartreuse, the 100% cotton voile quilted throw with decorative fine knot detailing and the multi coloured embroidered cushion. A soft floral trellis design accents the curtains in coordinating teal and putty. This beautiful synergy of paisley and ikat with softened tonal layers brings about a collection resplendent of easy bohemian elegance.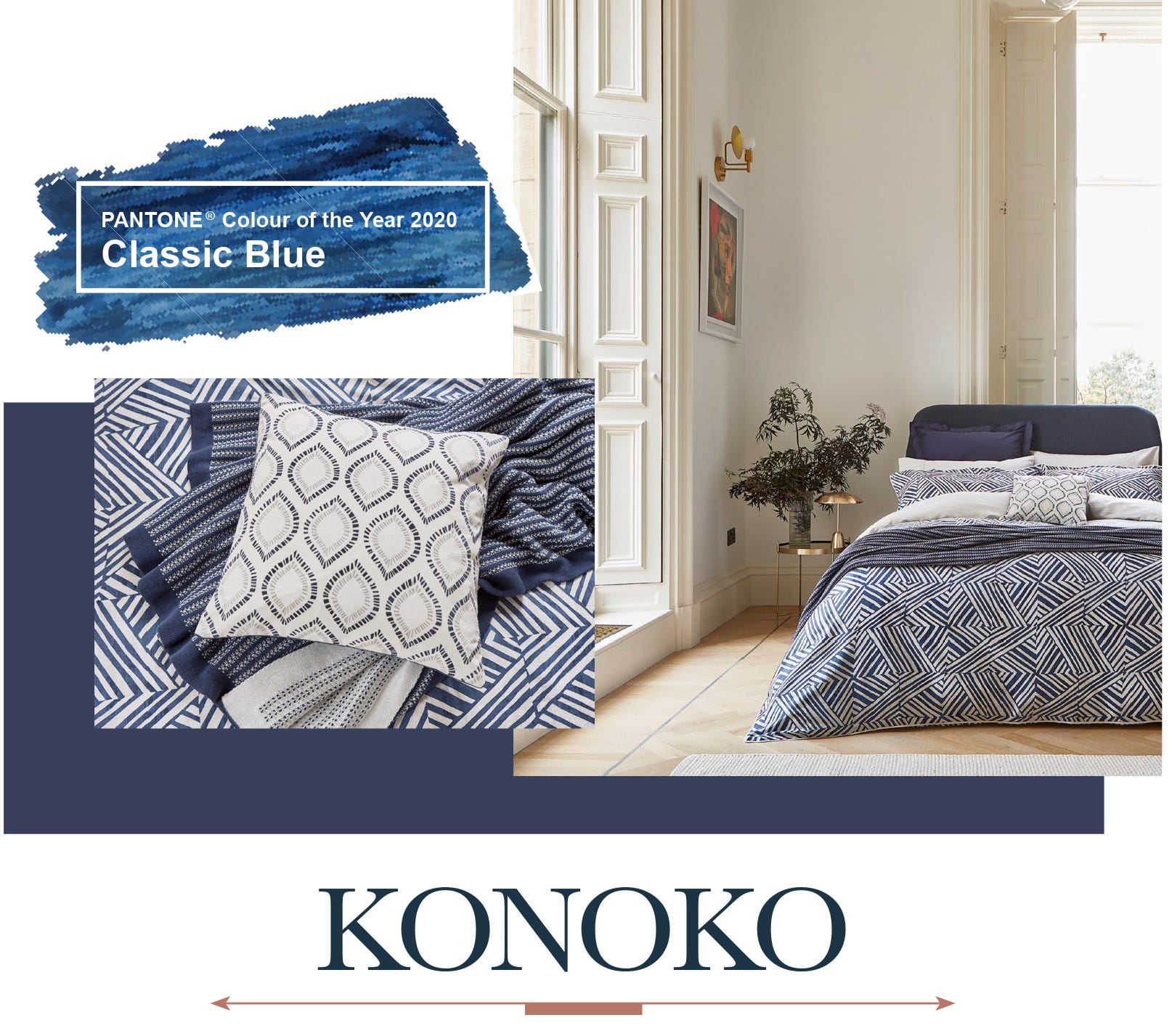 Inspired by the oldest form of textile dyeing and printing with origins in Indian and Japanese textiles- Indigo printing inspires this stunning take on a modern abstract design with a textured block pattern striped reverse. The tonal textural accents develop the look further with the main bed showcasing a fractured collage design, complimented with a rib knit throw in deep indigo and putty, and a flock print geometric cushion adding layer and interest. This modern fusion of traditional techniques presents a modernized take on traditional indigo, exuding a true artisanal feel of new bohemian artistry.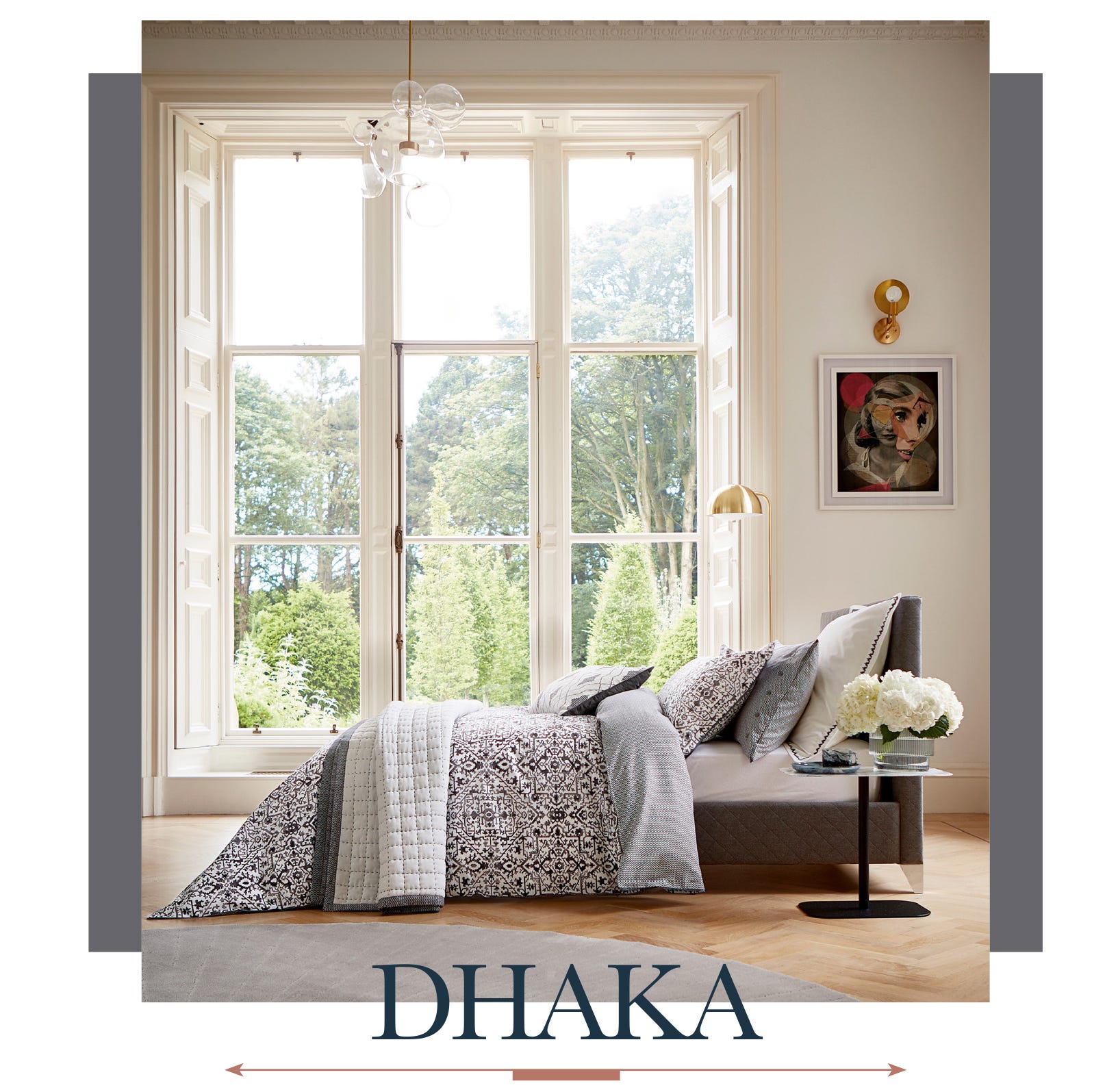 A striking charcoal and chalk printed bedding design inspired by woven patterns from Moroccan rug making. The main bed tribal pattern has a delicate painterly look with a modern chevron stripe reverse. Complimenting accessory pieces layer the look with artistry and depth. The addition of a square oxford pillowcase trimmed with an embroidered geometric design and the cosy stitch detailed kantha throw enhances the new bohemian feel with memorable layers. Coordinating curtains add to the look in smooth 100% cotton. The large hand printed Dhaka cushion with added embroidered detail has also been inspired by eastern carpet weaving to tie the complete look together.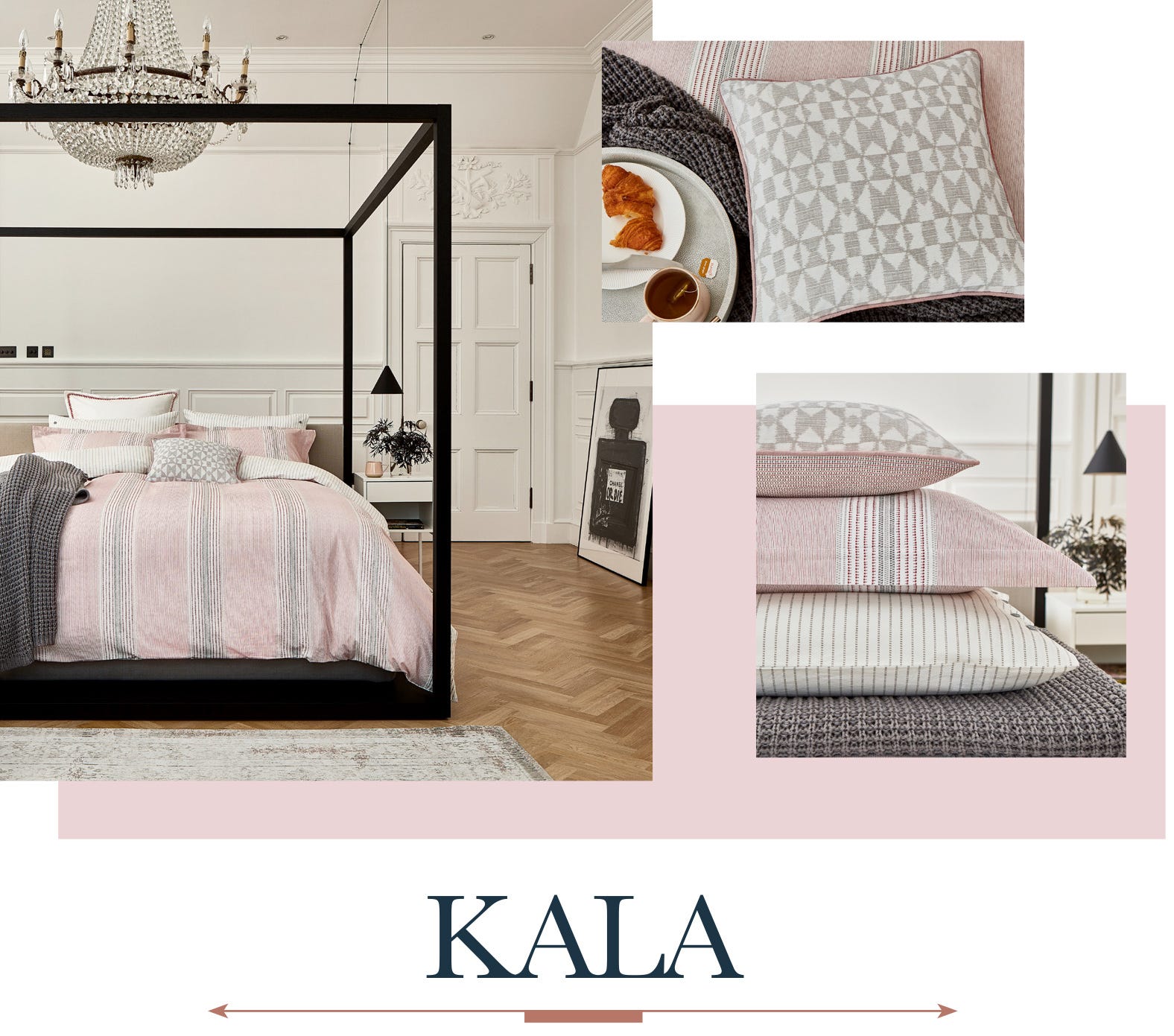 A subtle stripe design in deep coral with a garment wash finish for a soft lived in feel. The delicate hand drawn vertical stripe and colouration taps into the travelling textile traditions of Arabian influence. The relaxed style is enhanced with the addition of the chunky knit throw in soft graphite, the crisp white square oxford pillowcase with deep coral embroidered detailing and the complimenting ikat woven look cushion, brings together a textural triumph of new bohemian style.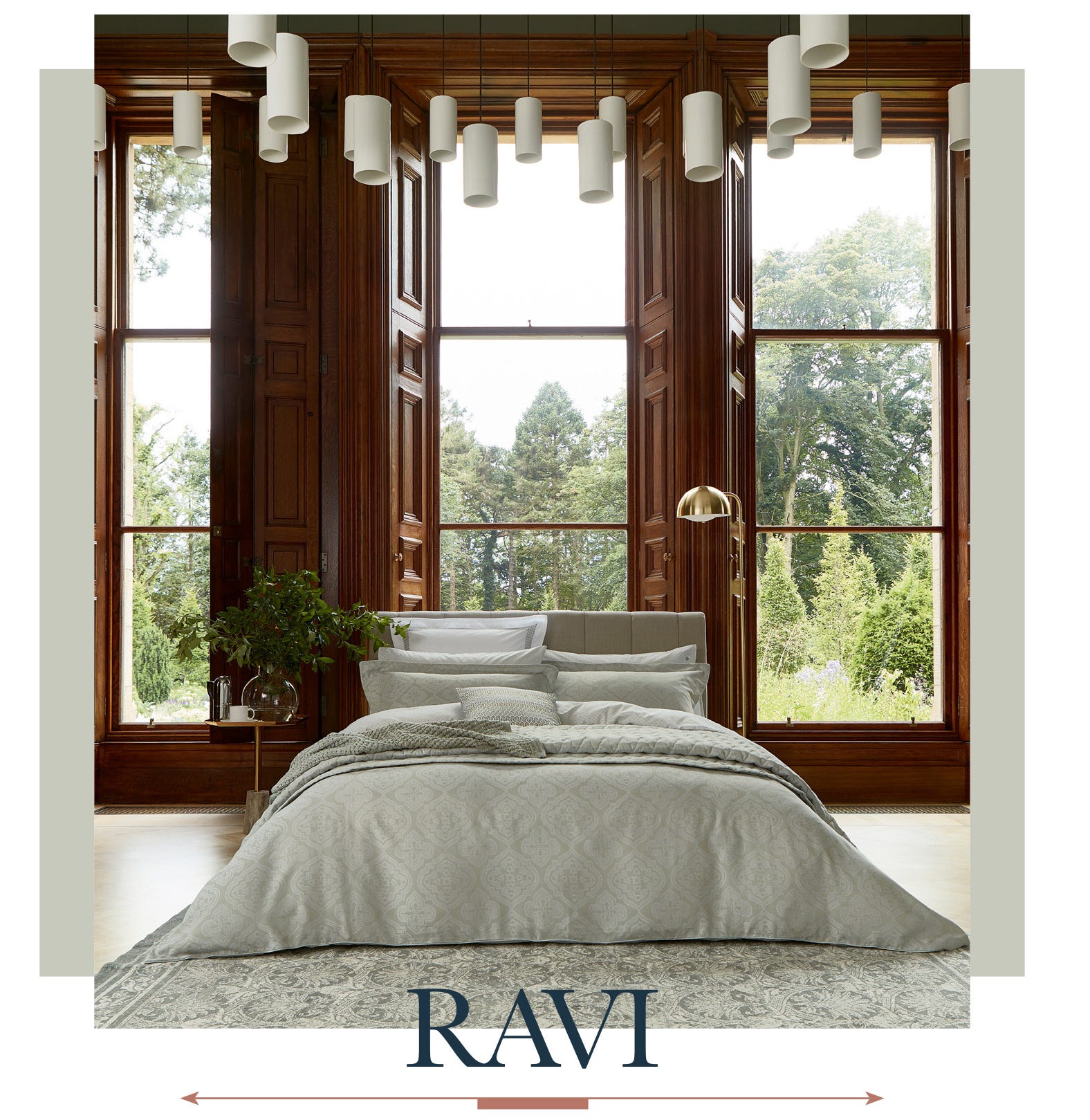 A sumptuous jacquard design with an intricate honeycomb texture in a globally inspired tile design. Capturing an eco-organic bohemian mood, this intricate assortment of fused design sees tones of sage meet with warm neutrals across understated geometric and soft tile patterns. Added layers add luxe and intrigue to this new bohemian blend, the square oxford pillowcase showcasing an intricate tile pattern which frames the pillowcase beautifully, the matching bedspread and 100% cotton knit throw with basket weave texture brings warmth and luxury whilst the multi coloured cushion in sage, chartreuse, charcoal and greens displays a geo embroidered design nodding subtly to a modern Moroccan design.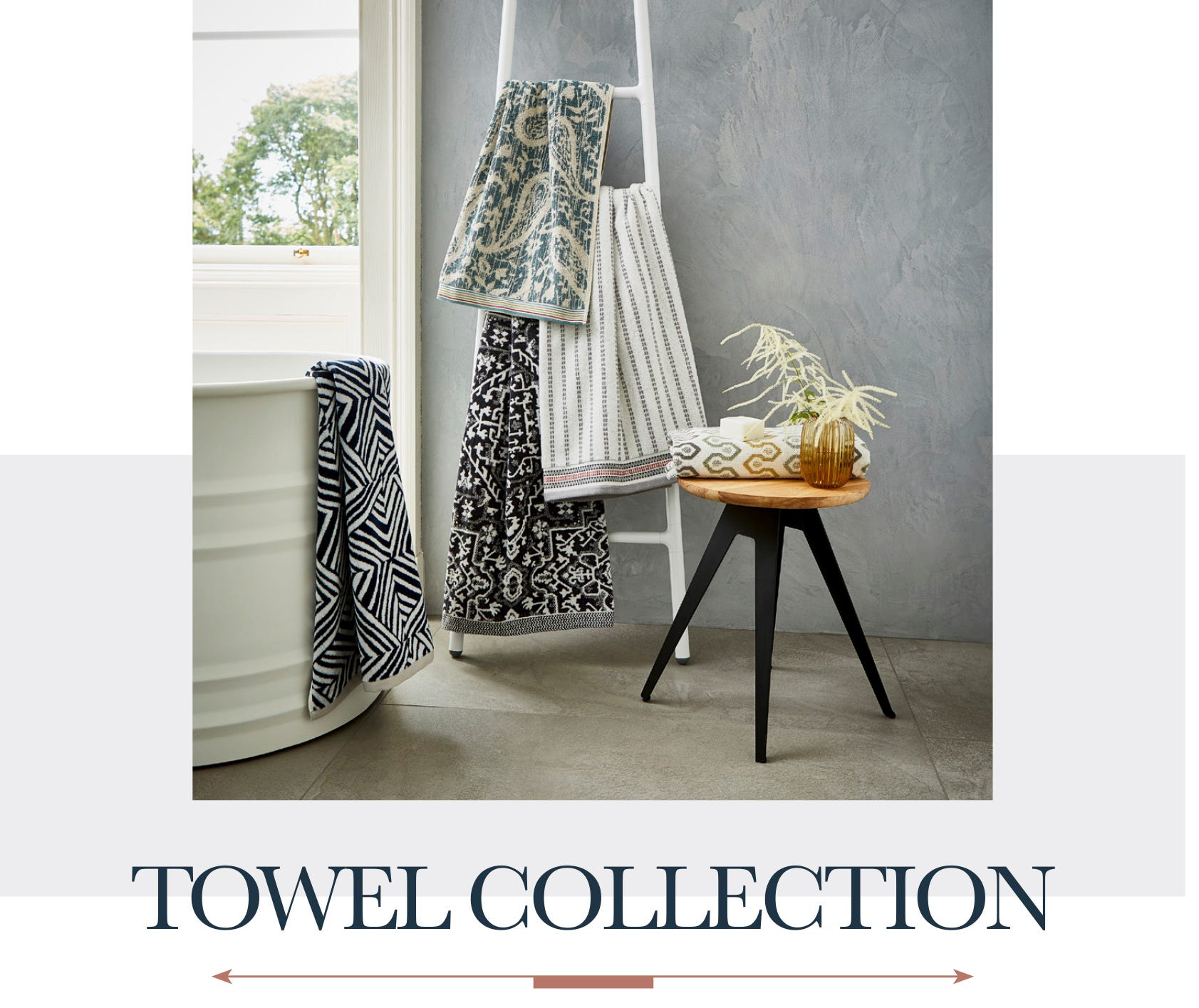 A collection of five contemporary towels reminiscent of the main bedding designs in rich textures, trimmed with interesting hem detailing all enhancing the collaborative new bohemian mood.
Available in hand, bath and bath sheet.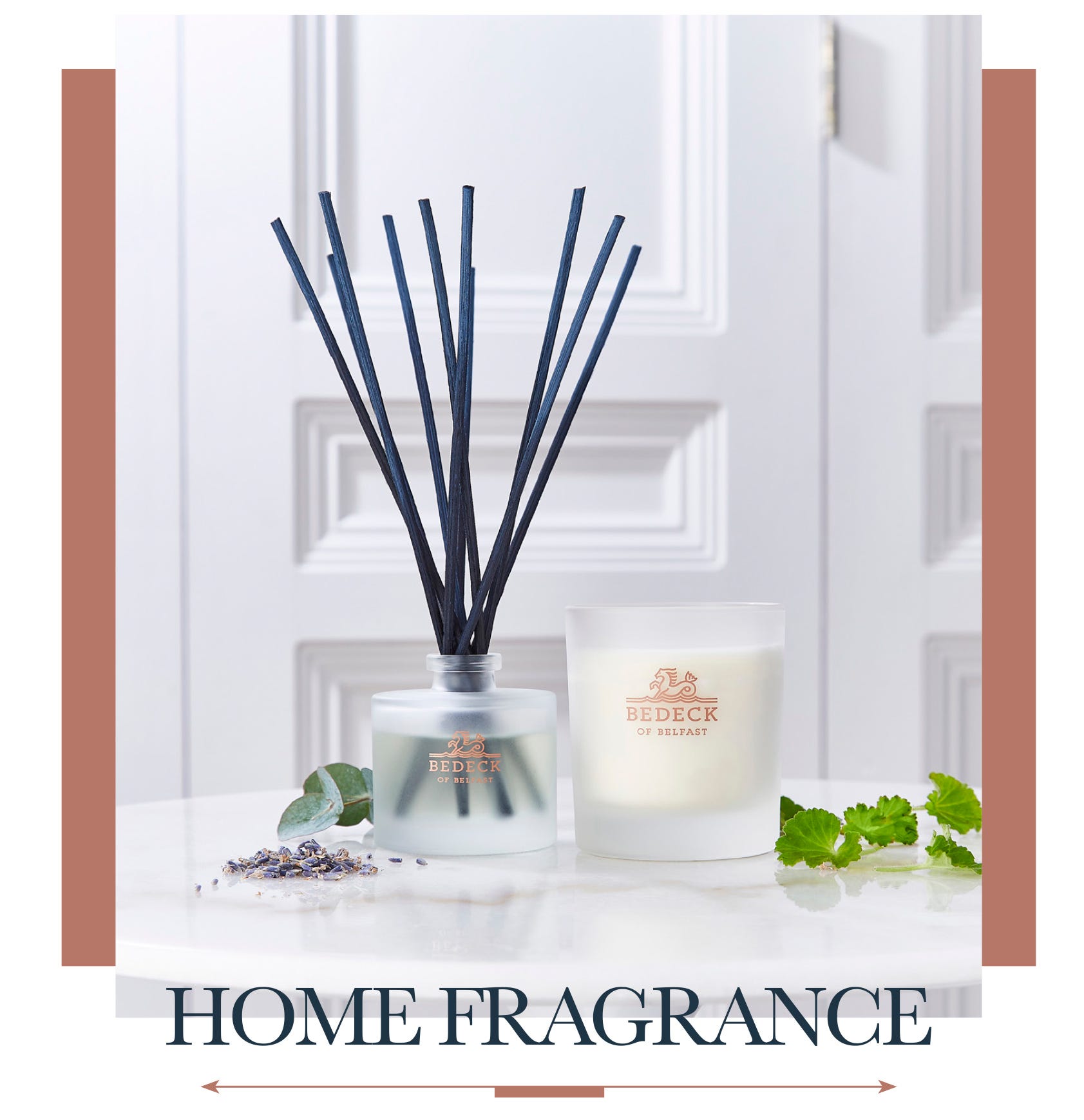 Botanical Blooms: Escape to nature with a melody of lavender and geranium blended beautifully with eucalyptus on a soft woody base, spirited by the summer meadowlands at the heart of the Irish countryside.

Flaxen Fields: Revitalise any space with the light and airy scent of fresh linen and cotton with uplifting floral notes. A fragrant reminder of the fabric of Belfast.

Atlantic Coves: Relax and unwind with a scent inspired by the fresh sea air enveloping Ireland's rugged coastline. Sea-salt and red sea moss fuse with green aromatic tones for an invigorating freshness.